Uniform
Mosman Little Athletics has a new uniform that has been developed in partnership with SportsMagic.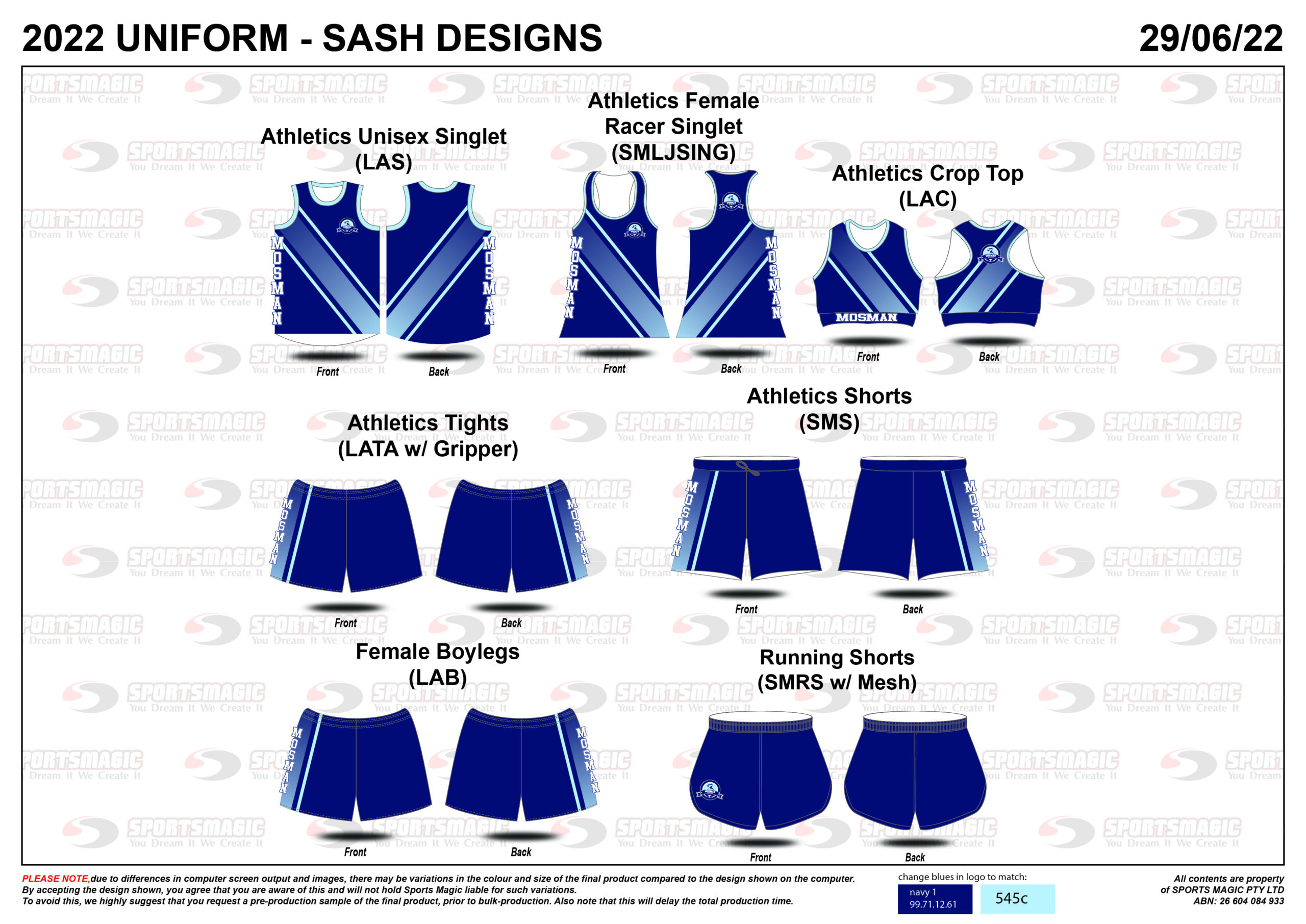 Are uniforms compulsory?
Yes: for U7 – U13 athletes, the uniform is compulsory for training, competition nights and external competition. For U14 – U17 athletes, the uniform is compulsory only for external competition.
Where can I buy the uniform?
There are three ways to purchase and collect your child's uniform:
At a Registration Collection Day prior to start of the season.
On first day of training for the season.
Online from SportsMagic .
To buy online:
Go to SportsMagic
Choose your item
Select size (samples will be available on registration pack collection days or any Monday training afternoon)
Select "club pick up" to avoid delivery charges
Uniforms will be ready for pick up at Balmoral Oval
Please note:
If item is showing "out of stock", select "back order" and item will arrive within approx. 4 weeks.
While you wait for your new uniform, any comfortable athletic clothing can be worn, but please pin the registration number and age patches onto clothing.
There is a full range of other great Mosman merchandise that can also be purchased via SportsMagic including jackets, hoodies, bags, hats and more.
Where to attach your registration number, age patch and sponsor patch
Registration number: attach in the middle front, just below the logo on the singlet or at the lowest point on the crop top.
Age patch: on the left front of shorts or tights.
Red Coles patch (competition requirement only): to be attached on the upper right side of the singlet or crop top.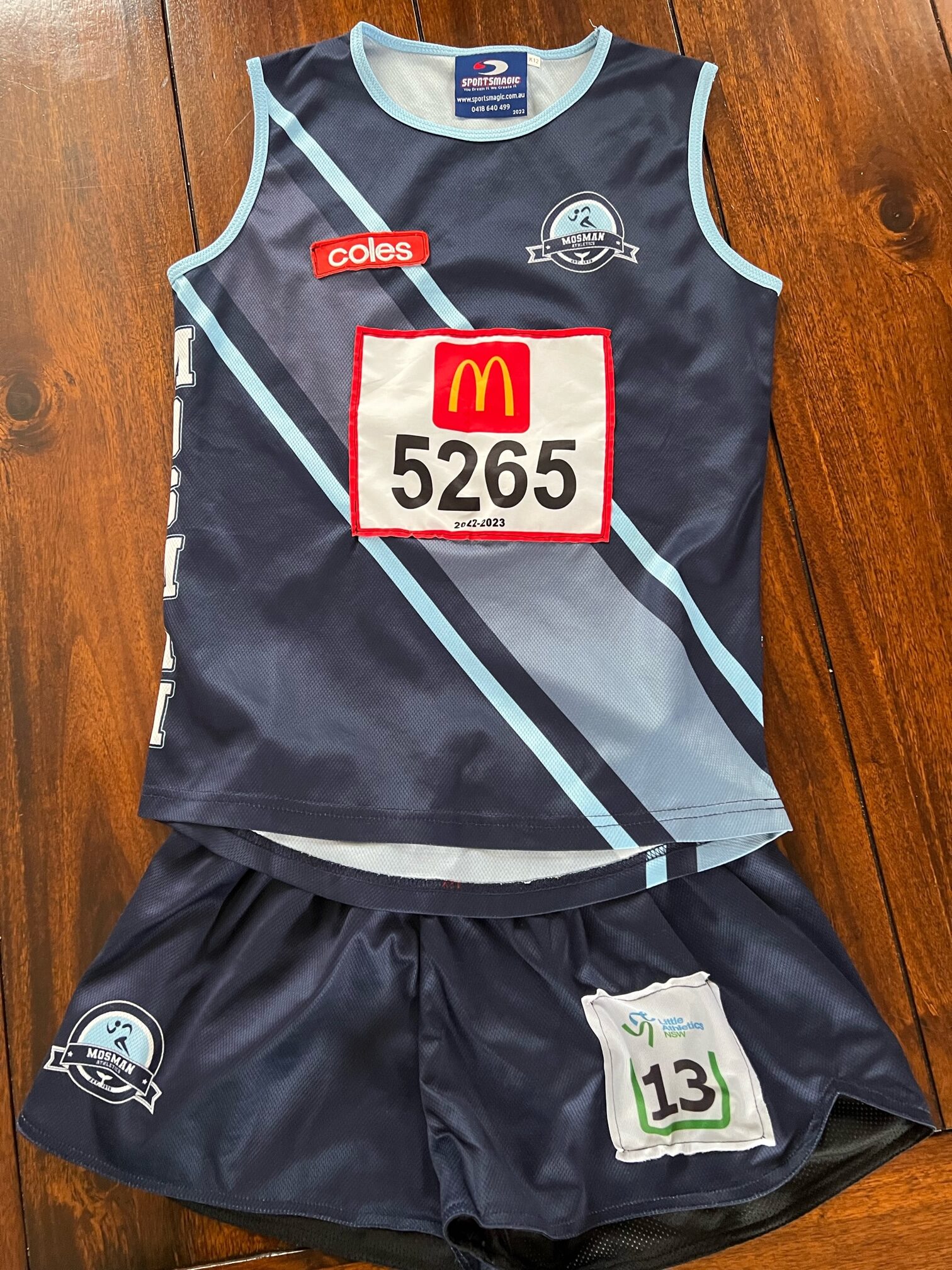 Please note:
Please ensure the registration number and age patch are attached to your child's uniform prior to the start of the season.
Any athlete without full uniform, including patches, will not be allowed to compete at external events and, if in a relay team, they may be disqualified.
Please do not cut or fold patches to make them smaller.
Athletes may wear compression pants underneath their Mosman uniform shorts provided there are no large visible logos.
If you need a Coles patch for competition please email

[email protected]
Footwear
Shoes are compulsory for all events and athletes should wear comfortable running/training shoes. Nike Vaperfly and equivalent "super shoes" should not be worn in athletics events. World Athletics regulators have imposed a ban on any shoe with a sole thicker than 40mm, or shoes that contain more than one plate.
At Balmoral Oval on Mondays, spikes are only permitted when athlete is:
U11+
Competing in 100m, hurdles or long jump on club training nights
Competing in 100m, 200m, 400m (not pack start), hurdles, long jump and high jump at Mosman club competition nights.
Please ensure:
Athletes bring appropriate trainers for warm-ups, longer running events and throwing events.
Spikes are carried separately in a spike bag, and only put on when the age manager or coach instructs them to do so.
Championships Uniform requirements
Mosman athletes representing the Club at any championship or interclub event must compete in full Mosman Little Athletics uniform with the following patches.
This season's Registration number (centre front of top)
Age Patch (left hand side of shorts)
Red Coles Patch (right hand side of top below shoulder)
Any athlete without full uniform and these patches will not be allowed to compete and the team will be disqualified.  It is therefore imperative each athlete complies.  Patches must not be cut or folded in any way to make smaller.
Athletes may wear compression pants underneath their Mosman uniform shorts.
Requests for Coles patches, and any registration number issues should be raised with the registrar at training or via email on [email protected]
Spike Rules for Training & Competition at Narrabeen Track:
ONLY "CHRISTMAS TREE' spikes (also called compression tiered spikes) and PYRAMID SPIKES are allowed to be used in spike shoes on the Narrabeen track.
Needle or cone spikes are NOT permitted.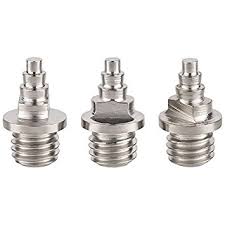 CHRISTMAS TREE
Maximum spike lengths:
Running activity maximum of 7mm
Throw and Jump activity maximum of 9mm
7mm Christmas Tree spikes are available for purchase with uniforms at MLA Registration Days or at the canteen
$10 for a pack of 12 spikes