Summer Registration 2020
LANSW has advised that Registrations are postponed until 15th August at this stage.
This is to allow all Centres to complete and submit their Covid Safe Plans for review and approval.
As with everything right now, this is subject to change.
We are hoping to start the season at the start of term 4.
Please visit the website for more information  www.lansw.com.au
We are working through logistics for the start of the new season and will share our covid safety plan once finalised.
So we can focus on our MLA families safety we have made the very difficult decision to not run Tiny Tots and U6 this year. We will review this for the second half of the season as we realise many families will be disappointed by this.
Another decision we have had to make is to move our U10 group into the earlier junior session and not have them in the later senior session.
We will keep you updated via Facebook re registrations and start of season dates once finalised.
We appreciate your patience as there is a lot to work through in this challenging and unprecedented time, we are doing all we can to run a season as normal as possible working with the restrictions to keep everyone safe.
Registration Icon on right hand side of page offers the following three options:
RENEW your membership. Existing Members – for individual members who have been registered before (Click here to access Tips for Existing Members Re-registering Online).
JOIN New Members – for individual members registering for the first time.
Family Membership – for all family registrations, existing or new.  When registering or re-registering more than one child you are eligible for a family discount if you select this category.
Fee Structure
 

VOLUNTEERING PARENT

NON-VOLUNTEERING PARENT

Registering

Fee

Total Due

 NV Fee Per Family

 NV Total Due

First Child

$195

$195

$75

$270

Second Child

$165

$360

$150

$510

Third Child

$125

$485

$225

$710

Fourth Child

$125

$610

$300

$910

Tiny Tots (3 and 4 years)

N/A

N/A

N/A

N/A
NON-Volunteering parent means you are unable to meet the volunteer requirements, which is helping out not less than four times per child throughout the season at Balmoral.  Please note that a Non-volunteering membership does not include championship events.  If your child/ren competes in a championship event you will be allocated a duty.  Unfulfilled duties incur a fine.
Tiny Tots are required to have a PARENT SUPERVISING AT ALL TIMES and to help coaches with your children so the Non Volunteering option is not applicable to a Tiny Tot membership. Siblings of Tiny Tots are eligible for the volunteering option. (Being present at the Tiny Tots sessions contributes towards the volunteering for the Tiny Tots siblings). 
Age Group Calculator 2019/20
To view the relevant age group see below: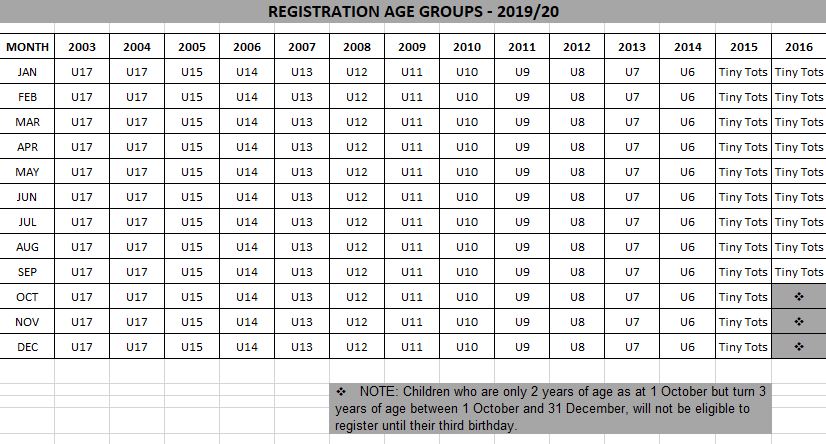 Guidelines for Online Registration
Link to the Little Athletics NSW website via www.lansw.com.au and click on the Registration link on the right hand side.
Select your membership category (as explained above) and you will be asked to select a Centre and Club both of which are "Mosman".
You will then be guided through a step-by-step registration process –
For each athlete being registered select the relevant age group (refer to Age Group Calculator link above) – following this you will be required to –
Agree to abide by the rules and regulations of LANSW.
Complete each athlete's name, address, telephone, emergency contact details, email, date of birth, gender and school;
Pay by credit card or PayPal online
NB: If you are re-registering either as an individual or as a family you need to sign in using your username and password that you will receive in an email from LANSW.  Each athlete has his or her own ID and password whether re-registering as an individual or as part of a family registration. Click here to access Tips for Existing Members Re-registering Online.
MEMBERSHIP IS NOT GUARANTEED UNTIL PAYMENT IS RECEIVED
Payment Options
Credit card via online registration; or
PayPal via online registration
Step Two

REGISTRATION COMPLETION & UNIFORM PURCHASE
 Please attend a Registration Collection Day to complete your registration, receive your registration pack (including registration number and age patch to be worn at training) and purchase uniform if required.
Registration Collection Days are very busy and there may be significant queues.
To save time on Registration Collection Day, you can upload the required documents via this form. 
You can also choose to have your registration pack posted to you ($5 charge) instead of attending a collection day.
 If not already provided you must bring the following to one of the Registration Collection Days:
Your completed *Volunteer Declaration which can be downloaded here;
And
If new to the Club provide proof of age (passport or birth certificate). Alternatively, proof of age can be scanned and uploaded via this form.
You will receive your child's registration number and age patch;
*The Volunteer Declaration Form needs to be completed with your volunteering commitments and will include an authority requiring your credit card details.  Any shortfall in your volunteering obligations (4 per child), revealed at our end of season audit, will incur a $25 charge per failure to attend e.g. if you only fulfil 2 of your 4 obligations your credit card will be charged $50.
To sign up for your volunteering commitments go to this page.