Joining Mosman Little Athletics for the first time? Welcome! Here's a quick summary of everything you'll need to know to get started:
Where and when do we train?
We train on Monday nights at Balmoral Oval in Mosman. There are three sessions:
Tiny Tots (3 & 4 year olds): 4:30pm – 5.30pm
Junior Session (Under 6 to Under 9): 4.15pm – 5.45pm
Senior Session (Under 10 – Under 17): 6:00pm-7:30pm
See the calendar for exact dates for the upcoming season.
How does it work?
Unlike other clubs in our region, Mosman Little Athletics has a coaching-focused model. Our priority is helping children develop important athletic skills and techniques through expert weekly coaching sessions. We also have four competition nights each season (held in place of training), where children have the ability to test out their new skills, record their performance, and compete against their peers in a fun and relaxed environment.
To give athletes variety and introduce a range of skills, we rotate our Juniors and Seniors between the following events in training, and at competition nights.
Sprints
Long jump
Discus
Race skills
High jump
Middle distance
Shot put
Hurdles
For our Tiny Tots, we run a series of games/activities that promote movement, agility and general locomotor skills, and also encourage social interaction and cooperation. We also run a range of activities that re specifically designed to mimic and teach athletic skills, including:
Shotput with bean bags
Jumping over hoops as a lead-in to long jump and hurdles
Mini sprint races of around 20-30m
Is there a uniform?
Since the start of the 2022/23 season, Mosman Little Athletics has a new, compulsory uniform which must be worn on Monday nights for all athletes U6 – U13, as well as at all external competition and championship events. Uniforms can be purchased online, or purchased and collected at registration collection days.
Who provides the coaching?
We have an expert and experienced team of coaches, all accredited by the Australian Sports Commission and with qualifications from courses run by Little Athletics, Athletics NSW and the peak coaching body in Australia, the Australian Track and Field Coaches Association, as well as Child Protection requirements. 
How do I register my child?
Registrations typically open at the beginning of August for the upcoming season. Keep an eye on our Facebook page to find out when registrations are officially open. Simply visit the registration page to get started. Please note that numbers are capped for each age group, so we recommend registering early to avoid disappointment. 
How do we know what age group to select?
Children are grouped strictly according to their date of birth, outlined by this table. Little Athletics regulations mean there is no flexibility to change age group.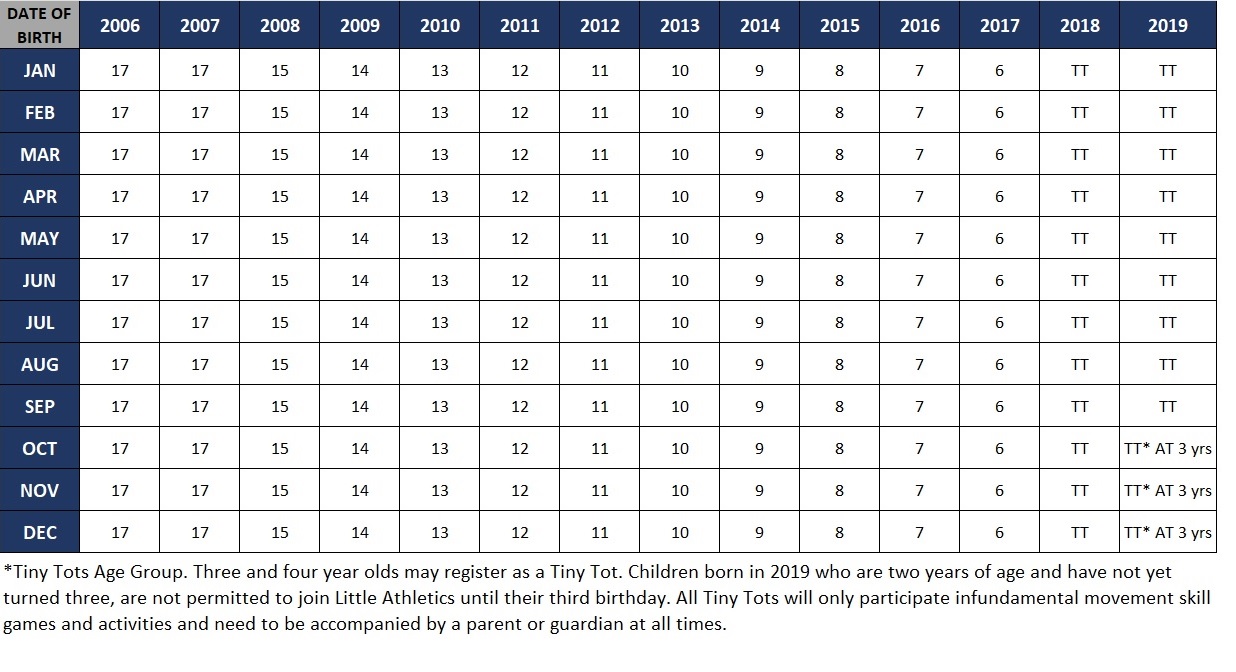 Please note that there is a minimum age requirement of three years for Tiny Tots. Children must have turned three before they permitted to join Mosman Little Athletics.
Can my child compete at championship events?
Mosman Little Athletics supports and encourages all athletes to strive for representation at Zone, Region and State Little Athletics NSW events, and our athletes often perform exceptionally. We often provide additional training during the week for athletes who have qualified and for athletes interested in improving their skills.
Do I have to volunteer?
The success of Mosman Little Athletics relies heavily on the involvement of parent and carer volunteers. Volunteering is a great opportunity to be part of your child's athletics experience, meet other volunteers, and receive significant discounts on season registration. We ask that you volunteer for a minimum of four sessions per child, or sign up for another volunteer role.  For Tiny Tots, parent/carer involvement is mandatory and each child must be accompanied by an adult.  
Where do we go on our first day?
On the first day (and on every Monday), children need to meet their age manager for as follows:
BALMORAL OVAL MAP FOR MLA TRAINING 2022
In the Junior Session
U6 Boys and Girls marshall at the Sprint Track finish.
U7-U9s marshall at their first event. 
Tiny Tots gather with their parents/carers at the white cone in front of the clubhouse.
In the Senior Session
ALL age groups U10-U17 marshall at their first event.
Age Managers will be wearing orange vests so you can easily spot them and your child will need to have their name marked off before starting training.  Just ask the committee helpers at the tables if you need help finding the right place.
FIND YOUR FIRST EVENT ON THE CALENDAR AND PROGRAM
What happens if it's raining
Check our Facebook page or Home page for updates regarding wet weather cancellations. A decision is typically made around 2pm on the Monday.
Where do I collect my child?
At the end of the training session all U6-U9 (Junior) and U10-U11 (Senior) children will be seated at their last event waiting for you to collect them. Check the program for their last event location on the oval. When you collect your child, please make sure you let the Age Manager know so they can mark them of the list.